Dave Cantrell
Take Me Back

WELLS FAMILY
On this CD you will get impressed by nice presenting of family's bluegrass and Gary and Debi Wells' three very pretty daughters. Father Gary plays the contrabass, mother Debi plays the guitar and their daughters; Sara plays the banjo, Jade plays the mandolin and Eden plays the violin.
From this unique group from Clayton, North Carolina, I was musically most impressed by Mrs. Debi Wells. She is a versatile musician and posses the composing skills presented in a traditional song called Ruben's Train or Down To the River to Pray. It is an old railroad song and it is the most traditional record on this album sang by Gary.
Debi wrote four songs for Mountain Of Dreams and one song is written in co-operation with Jade and Sara. She introduces her full-grown voice in two songs. There Is a Time is a woman's presenting of the old version of the Dillards' song. Debi's lead vocal is really good and her rhythmic work is irretrievable in this middle slow repertory. The second song sang by her is Mighty Bird and it is in contemporary style with good, precise mandolin.
I was interested in how the group would face a hundred times presented gospel Down To the River to Pray. The girls sang it in a cappella with beautiful harmonies and lead Sara's vocal.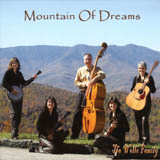 A nice recollection of O'Brother movie...
Sara, Jade and Eden are hopeful musicians and singers. Each of them sings lead vocals and their age is conspicuous. Sara is 21, plays the banjo and sings tenors. Her banjo play is the most expressive on this album and she is in demanding position because most songs are slow and her banjo play is followed. I like her banjo play in My Home.
Jade is 18, plays the mandolin and sings baritone. After the introductory, to me very constrained sang song, Old Mountain Road, I favoured her singing in the love song It's You and mainly in the title song, Mountain Of Dreams, which is the jewel of this album.
Eden is the youngest; she is only 15, plays the violin and sings high baritone. In my opinion she is the greatest talent in this family alignment. Her contribution and her violin solos are fabulous and her singing in My Home is beauty itself. This up-tempo song is fresh sung and I wouldn't say that the singer is only 15. Her voice sounds female enough and if she learns something from her mother she will grow up into a great singer.
The lovely gospel harmonies in Down To the River to Pray and By The Mark are the great pride of the Wells family. In the slow and royal record When I Close My Eyes, there are sensitive harmonies, sweet as if the three Alison Krauss sang it.
In spite of the fact that the group has presented its bluegrass from the middle of the year 2003, there is a feeling of a bluegrass tradition, a harmony in singings and a great sense for this kind of music. Although the group is very young, they have already presented their original songs in Bell Witch movie, you can find these songs on its soundtrack (www.bellwitchthemovie). Moreover their two songs were successfully introduced on composer Showcase, festival IBMA.
Through the radio, the group is gathering its fans on the east coast as well as the west coast of the U. S. They attended a few festivals where they play with such stars as Mountain Heart, Gibson Brothers and so on. We will surely hear from the Wells Family.
You can visit their website at www.wellsfamilybluegrass.com.
Ľubomír Toman, Horná Poruba, Slovakia
MOUNTAIN OF DREAMS
2004
LIVINGWELLS
Old Mountain Road
There Is A Time
When I Close My Eyes
Ruben's Train
It´s You
Sweet
Down To The River To Pray
Mighty Bird
Mountain Of Dreams
My Home
By The Mark
The Star Spangled Banner